Cold Weather Closure Guidelines
Since March of 2020, The FOOD Pantry has been operating no contact outdoor service in The Pantry's parking lot during normal service hours as well as adding no-contact scheduled pick ups through an online ordering system. These COVID precautions combined with extreme weather, require The FOOD Pantry to adjust it's guidelines for closing due to inclement weather.
---
Normally, The FOOD Pantry will close due to inclement weather when the Waukesha School District closes. In addition to that, for the safety of both guests and volunteers; The FOOD Pantry will also now fully close when the temperature, including wind chill, is below negative 20 degrees F. When the temperature, including wind chill, is below zero degree F The FOOD Pantry will have limited service.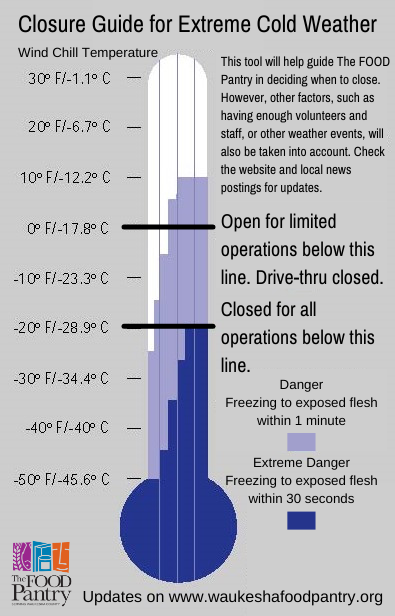 Limited service will still allow for online pre-orders and pre-orders taken over the phone. When The FOOD Pantry closes or limits services, that information will be posted online, on social media, and on local news stations.
Clients may call 262-522-2379 for more information and to place pre-orders Monday-Friday 9:00 AM to 11:00 AM and Monday-Wednesday 3:30 PM to 5:00 PM.
---
Tags in this Post: News , Programs
Back to Blog